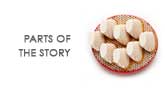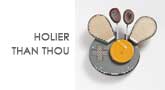 Click on thumbnail for larger image
A Year in the Making is a collaborative project curated by Anne Farren showcasing works of 12 Western Australian contemporary jewellers. The brainchild of Claire Townsend, the project aims to facilitate personal and professional growth through dialogue and exchange and was inspired by innovative collaborative projects that have been undertaken by contemporary jewellers in recent times.
Participants Claire Townsend, Philip Noakes, Brenda Ridgewell, Sarah Elson, Helena Bogucki, Robin Wells, Leanne Ryan, Christel van der Laan, Jacquie Sprogoe, Jill Parnell, Claire Moody and Julie Ann Ogilvie are established and emerging artists. Each was asked to create one work each month for 12 months in response to a theme set by another member. The group have been meeting monthly discuss works in progress and the project will conclude end November 2014.
Works will be exhibited at Breathing Colours Gallery from 7-19 July 2015 in Sydney as part of the Jewellers and Metalsmiths Group of Australia's (JMGA's) biennial national conference edgesbordersgaps. From August 2015, the exhibition will tour regional centres in Western Australia
TINKER TAILOR SOLDIER SAILOR: 100 WOMEN
100 BROOCHES 100 STORIES
Artisan Bribane, 2011, touring regional centres
around Australia 2012 - 2014.
Brooch: Mother of Pearl (2011) Mother
of pearl shell, buttons and cufflinks,
painted sterling silver.
Click on thumbnail for larger image
Made for Professor Fiona Wood - one of 100 extraordinary women and part of the national travelling exhibition: Tinker Tailor Soldier Sailor: 100 Women 100 Brooches 100 Stories.
Professor Fiona Wood is a plastic surgeon and mother of six children, Head of Royal Perth Hospital's Burns Unit and Director of the Western Australia Burns Service. As a researcher and co-founder of Clinical Cell Culture, her revolutionalry spray-on skin technology was used to treat burns victims of the Bali bombings where she led a team that worked to save 28 patients.
Fiona Wood is currently part of a Western Australian research team examining how pearl nacre might be used to regenerate and enhance cell growth. She is well-known for her love of pearls, in particular her large pearl necklaces.
---